eRead Illinois Catalog
-
Conveniently expanding your access to eBooks and audiobooks. Download up to 5 titles at a time! Download apps from the App Zone, and get started.
eRead Illinois Lending & Device Information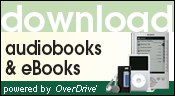 Silvis is on the OmniLibraries OverDrive collection
To use it, you will need to change your library in your device's app from 'RiverShare' to 'Silvis Public Library' in OMNI.
OMNI OverDrive catalog
Comics and Graphic Novels
Unlimited access to over 16,000 popular and classic titles.
Learn More
Downloadable Video Games
Hundreds of popular online games for PC/Android devices
Learn More